SEPM is excited to participate in this year's first virtual Annual Meeting held by GSA – the GSA 2020 Connects Online. This is a 100% online experience on 26–30 October that replaces the in-person annual meeting scheduled for 25–28 October in Montréal.
As a partner of GSA, SEPM will host several events at this conference including a Student Research Poster Presentation (with cash prize) and SGD Awards Ceremony. Read more to stay in the loop below.
Registration
SEPM + Sedimentary Geology Division Conference Events
Sedimentary Geology Division/SEPM Student Research Poster Competition [10 T43]

October 26 | 11:30 a.m. - 3:30 p.m. EST

GSA Sedimentary Geology Division and SEPM Awards Celebration [NTE81]

October 28 | 7 - 8 p.m. EST
Join us for the 2020 GSA SGD and SEPM Awards Celebration. During this event we will present the Sloss Award, present the Student Research Grant award and present the student poster awards. After registering, you will receive a confirmation email containing information about joining the webinar.
[REGISTER HERE]
Conference Details
Visit SEPM and other exhibitor booths for the opportunity to meet geoscientists, including industry representatives, professors, researchers, government employees and other future leaders of geoscience industry and academia.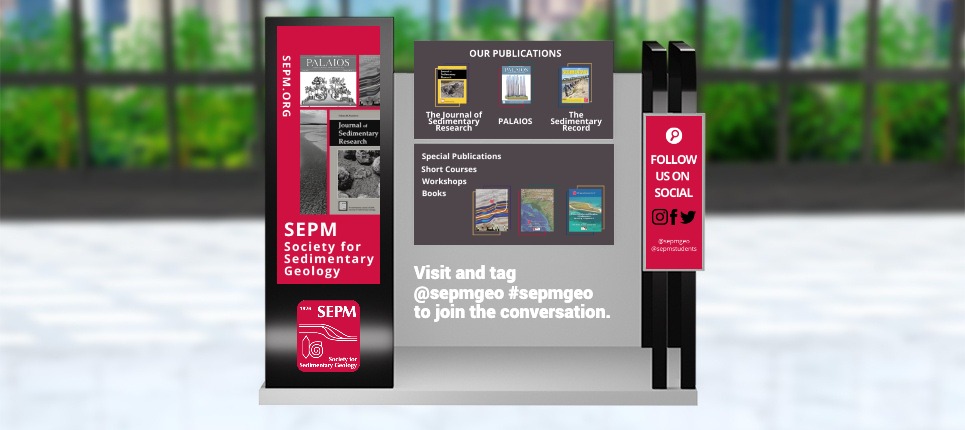 100% Live Discussion, Watch Recordings in Advance
A few of GSA's technical sessions (see below) are part of a new presentation format this year. This new format requires meeting attendees to watch the recorded presentations early and come to the live session prepared with questions and comments to contribute to a dynamic discussion. Recorded presentations will not be shown during the scheduled session.
Meeting attendees can watch the recorded presentations at their leisure any time between 19 and 23 October. The time during the live session will be devoted entirely to Q&A/discussion. This format allows more time for interaction and networking during the sessions. You must be registered for the meeting to watch sessions in advance.
Here you can search or browse events scheduled for this meeting, create your own schedule of events. This personal schedule is simply a planning tool, not a way to register for sessions. Entry into each session at the meeting is on a first-come, first-served basis. To find a session, either check the "Technical Programs" link on the left or use the search functions. Once you find a session, you can click on it for more details. See the left navigation bar for instruction on how to create your own schedule.
Questions? Please contact digitalmedia@sepm.org for more details or for information about contributing to the SEPM Blog.