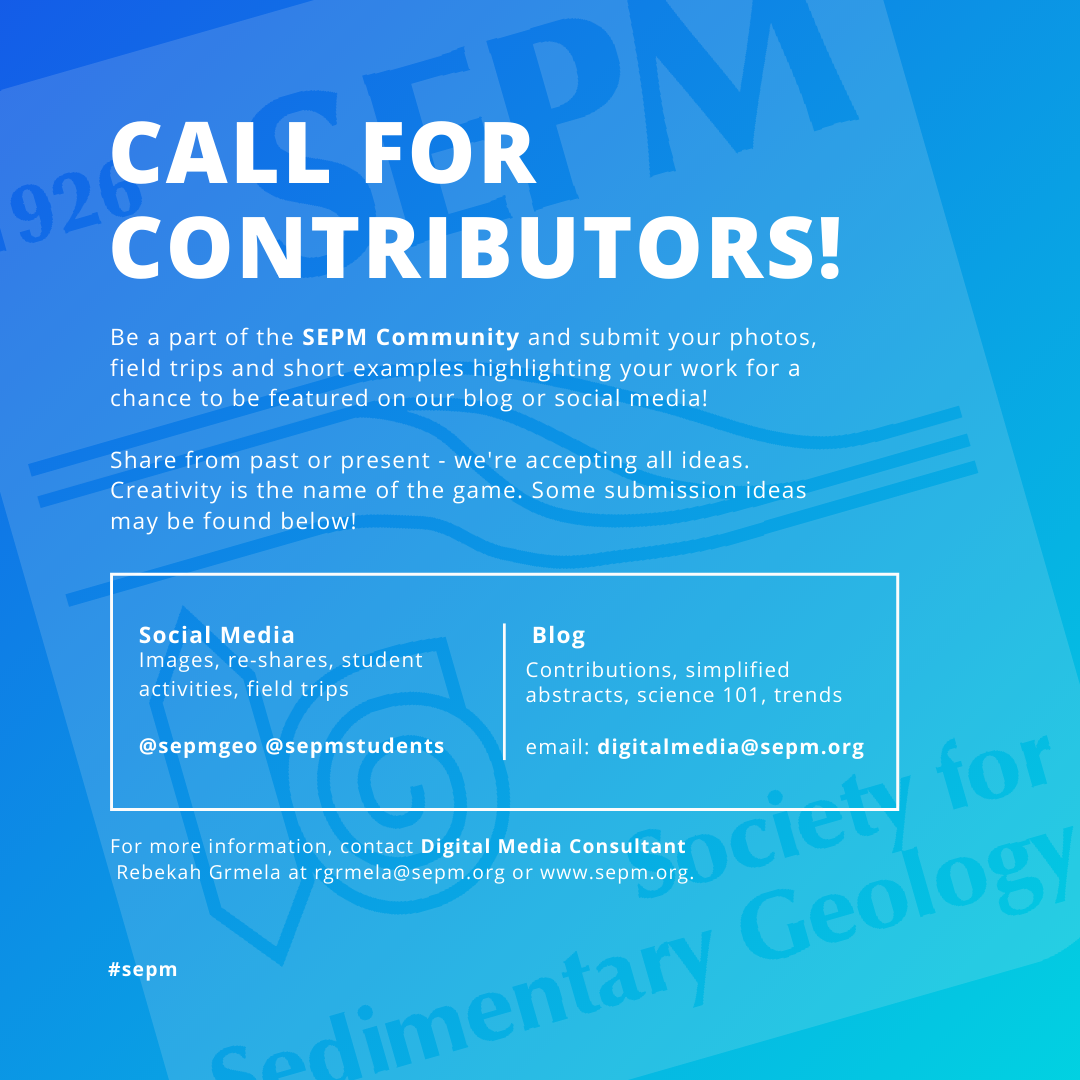 As you may already know, SEPM, or the Society for Sedimentary Geology, is a nonprofit society and membership organization. Formed in 1926, the society was created to focus on enriching resources for professionals and students within the field of sedimentary geology. As we look toward an evolving scientific community of the future, we are looking for new ways to disseminate educational and scientific findings to our membership and general community.
This is where you come in!
While we provide many unique avenues for you to publish and grow via JSR, PALAIOS and the SedRecord, we also focus on bringing members together through networking of all sorts. One great way to meet others in the sedimentary community? Sharing. We're looking for content submissions from SEPM, not just for the sake of content, but to provide you opportunities to get to know your community, ask questions and get cited more frequently.
What we're looking for
Great photos, figures and graphics. Are you an expert at snapping photos in the field? Do you love creating beautiful figures? We are looking for your best work.
Blog posts. Want an even shorter format to discuss and share your newest, most exciting ideas? We're looking to highlight our current member scientists and their work in the field, lab or in the community.
Social media. In addition to sharing online, we love opportunities to partner up with active scientists for Instagram Takeovers, Virtual Field Trips, Twitter AMAs and more.
Collaborations. The above are just a few creative ways to highlight some of your work. We will take videos, interactive art, digital zines and really anything that strikes your fancy.
New takes. The more creative and weird the idea - the better.
Benefits to contributing content
Exposure to the 2k plus SEPM membership community.
Highlights in our new monthly SEPM newsletter, reaching professionals and academics across the globe.
Open your pre-print up for discussion and feedback with real-time comments and responses based on your scientific ideas and contributions.
Citations. The more people that know about your work, the more they can reference the details.
Partnerships. Gain a new member of your professional science fan club and possibly a new co-author!
How to submit
This should go without saying, but make sure the work you're looking to share is *yours* (or you have obtained written permission from all of your collaborators to share).
Send us an email, or complete the online Content Submission Form.
Share an author, description, date and links to share, and we'll do the rest.
The rules
Questions? Please contact digitalmedia@sepm.org for more details or for information about contributing to the SEPM Blog.