With the recent release of the September Sedimentary Record and in light of current events in 2020, SEPM has made direct efforts to listen and pay attention to the needs and concerns of our membership, particularly in the area of DEI (diversity, equity and inclusion).
We invite you to refer to recent announcements and publications referenced below to better understand the context and conversation surrounding these efforts in our organization, council and membership. We encourage you to digest and share your thoughts and feelings in the comments below.
No matter the topic, SEPM's mission is to engage the scientific community and educate on the topic of sedimentary geology. We will always adhere to this mission and take the necessary steps and actions required to provide the safety and resources required to do this work.
Council + President's Comments
In light of the growing conversation surrounding race and its value and importance in the workplace, SEPM developed a DEI Committee with the help of Council to address these special concerns in our organization and membership. President Mike Blum addressed this topic in both our August and most recent issues of The Sedimentary Record, providing additional insight into our organizational motivation and demographics. We encourage you to take a look at both issues to familiarize yourself with the details of this topic.
An Organization Examination
Written by Fernandes et. al, our latest SedRecord issue also shared a constructive article titled: "Enriching Lives within Sedimentary Geology": Actionable Recommendations for Making SEPM a Diverse, Equitable and Inclusive Society for All Sedimentary Geologists." This examination of SEPM and the SedGeo community provided insight into the historical trends found in membership, leadership and awardees of our organization, and reflect on the responsibility of our organization to steward the direction of sedimentary geoscience.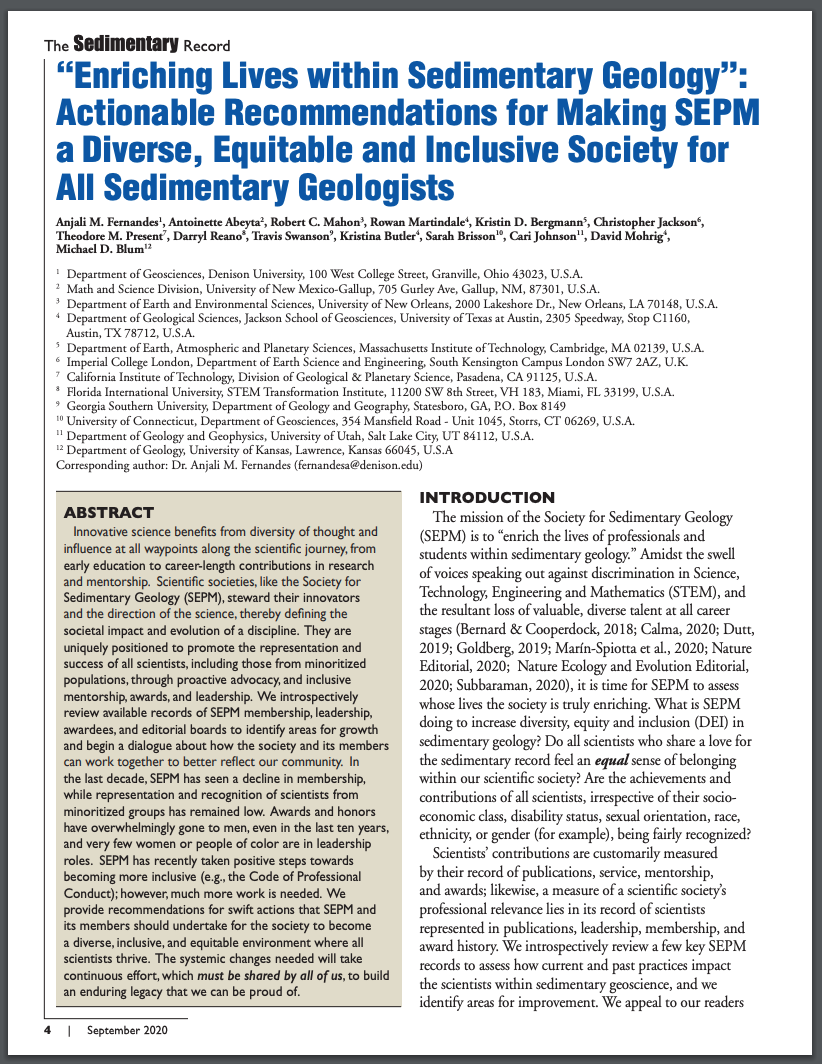 Fernandes et. al Community Survey
To begin understanding our full need for change, we determined we must begin measuring that which we cannot see. While certain trends and requirements have deterred us from collecting demographic information in the past, we created two distinct surveys to learn more about our community. One survey focused specifically on membership concerns, titled our 2020 Community Survey. The other focused specifically on DEI, and was shared with SEPM membership as well as the larger SedGeo community. We encourage you to read more about these results in Mike Blum's President's Comments, as well as in the Community Survey Results Summary.
SEPM faces demographic challenges, and both the demographics of our society, and the long-term loss of professional membership reflect these challenges. On the positive side, SEPM has improved its representation by various groups over the years. We are now a more diverse population, especially in the under-50 demographic and in terms of gender, and our increased diversity follows trends in the geosciences as a whole. We are excited to begin this conversation with you.
Questions? Please direct them to the comments below, or share your thoughts via digitalmedia@sepm.org .