Call for Next Editor
SEPM is looking for the next editor of the SEPM The Sedimentary Record.
We are now accepting nominations and self-nominations for a new Editor of The Sedimentary Record, SEPM's quarterly publication, for 2021 - 2023. Self-nominations are encouraged.
Editorial responsibilities are for one science article each quarterly issue (Jan, Mar, Jun, Sept), including soliciting submissions, organizing and evaluating peer review, and editing manuscripts. Attention to reducing implicit bias in the editorial process and increasing the diversity of authorship is valued. The Editor, with help from the SEPM council and larger membership community, is expected to look toward evolving The Sedimentary Record into a larger fully Open Access journal in the future.
The editor must be a current member of the Society.
Please send self-nominations, including a CV, to Lauren Birgenheier, current Editor of The Sedimentary Record, at lauren.birgenheier@utah.edu.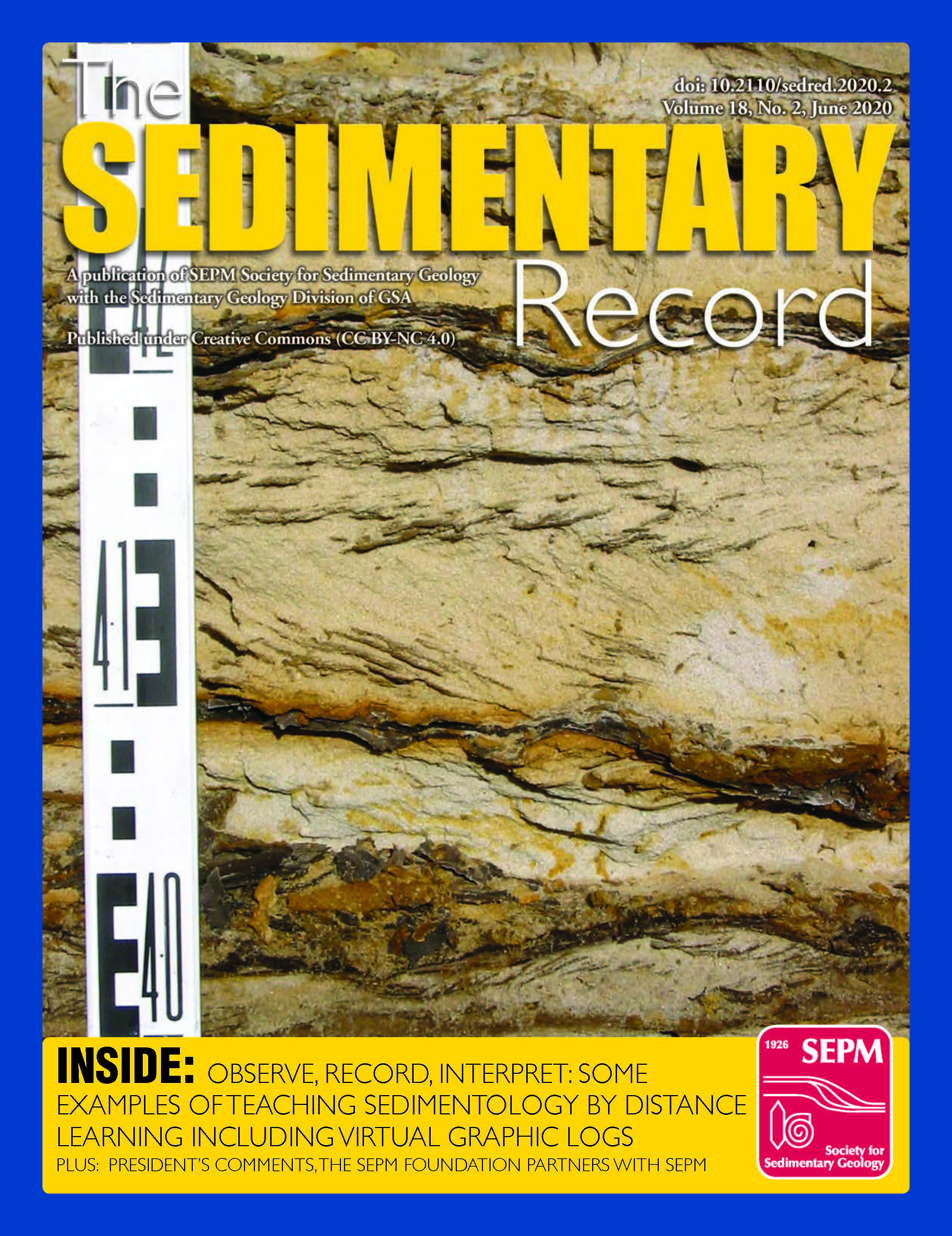 The Sedimentary Record is published quarterly in online and paper formats by SEPM. It contains peer-reviewed science articles on topics of broad and current interest to the membership of SEPM, as well as shorter, editor-reviewed articles addressing a variety of topics, including Society business and media reviews.
We welcome contributions from members of the Society for inclusion in the journal. We also welcome suggestions concerning how The Sedimentary Record should evolve to meet its goals of serving as:
An outlet for communicating information important to the Society
A focal point for discussion of current topics, and topics pertinent to the future of sedimentary geology
Quarterly submission deadlines are Mar 1, June 1, Sept 1,and Dec 1 for publication 3 months later in the following issue (June 1, Sept1, Dec 1 and Mar 1, respectively).
Submitted manuscripts need to meet these criteria:
Topic of general interest to sedimentary geologists
Full color figures
3,000words recommended including references and figure captions (4,000 max), 3 – 4 figures can be included and
Use Times New Roman, Font size 11
The submitted manuscript will be peer reviewed by at least two reviewers.
Benefits of publishing in the Sedimentary Record
Full Color at no charge
Open Access at no charge
Quick Turnaround
Submit manuscripts should be submitted in MS Word format with images in jpg or pdf format at print resolution (at least 300 dpi for their anticipated size) to the editor of The Sedimentary Record, Lauren Birgenheier, at lauren.birgenheier@utah.edu
This series also incudes:
Manuscripts to be considered for publication should be submitted to the editors in electronic format, preferably by e-mail.
Editor:
The Sedimentary Record (PDF)
---
---
---
---
---
---
---
---
---
---
---
---
---
---
---
---
---
---
---
---
---
---
---
---
---
---
---
---
---
---
---
---
---
---
---
---
---
---
---
---
---
---
---
---
---
---
---
---
---
---
---
---
---
---
---
---
---
---
---
---
---
---
---
---
---
---
---
---